Les Journeaux de Lipsett (ver.FR)
Les journaux de Lipsett par Theodore Ushev, Office national du film du Canada
Demoni from Theodore Ushev on Vimeo.
Nightingales in December
Nightingales in December from Theodore Ushev on Vimeo.
Yannick-Nézet-Séguin: No Intermission
XX century trilogy:
Tower Bawher (2005)
There are some experiments before. But I consider Tower Bawher my first professional film.

Drux Flux (2008),
3d version ( requires Colorcode, or blue/yellow anaglyph glasses)

A TV Ad for David Gilmour's "In an Island" album

Tzaritza (2006 )

Here, I have to post a film, that I think is the best, that I've ever made.
The Man Who Waited. (2006)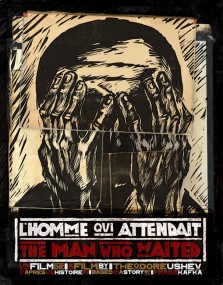 But it is not available online. And it will never be. It is based on a story by Franz Kafka. It played on almost every program about Kafka on film in the world.
You have to buy the DVD to watch it. It is included also on "Drux Flux" DVD.
Sou
Is it a film? Don't know. It was one of the first films made especialy for cell phones. It can be watched on big screen. And You'll see different things.